We feel extremely pleased to officially announce to have been appointed as Official Distributor for SaveMyBug™ (USA) Products in Pakistan.
website: www.savemybug.com
A special thanks to Greg Brown at SaveMyBug™ (USA) for putting his faith in us.
Now you can order SaveMyBug™ (USA) products with full confidence with same 100% Satisfaction Guarantee right here in Pakistan at the same great price as in the USA!!!
PACVWR #: 1-09901
SaveMyBug™ Oil Temperature Sensor - Type 1
*Comes in form of a complete kit
*1200cc, 1300cc, 1500cc, 1600cc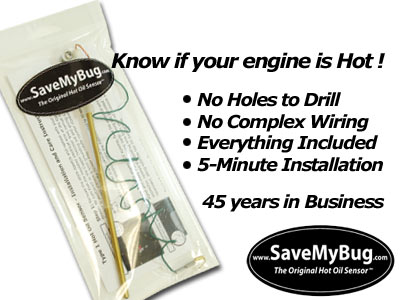 BUY YOUR SAVEMYBUG™ PRODUCTS IN CONFIDENCE FROM PACVWR™!
To get further details, please e-mail to shop@pacvwr.com
Visit PACVWR ONLINE PARTS SHOP to order your kit now!